The Nancy & Paul O'Neill Speaker Series presents Wes Moore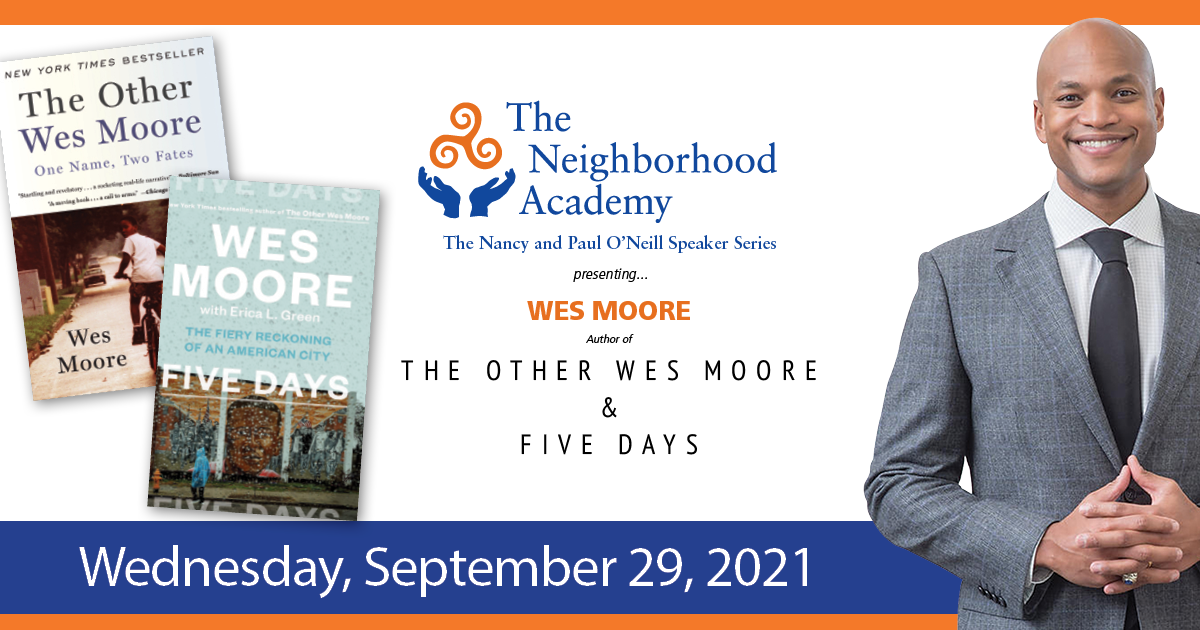 Event Timeline
Wednesday, September 29, 2021
The Neighborhood Academy
709 N Aiken Ave, Pittsburgh, PA 15206
5:30 p.m. – 7:00 p.m. –
Author's Circle VIP Gathering with Wes Moore; General Admission; Libations and Dinner
7:00 p.m. – 8:30 p.m. –
Wes Moore's Presentation and Conversation; Dessert/Coffee Bar
*The in-person event will take place within TNA's Hans and Leslie Fleischner Indoor Soccer Field, so we ask that you please wear flat-soled shoes.*
Ticket Levels
Author's Circle VIP | $250/Ticket (In-Person or Virtual)
Author's Circle VIP Gathering, Libations with Wes Moore and Dinner (5:30 p.m. – 7:00 p.m.)

Wes Moore's Presentation and Conversation, Dessert and Coffee Bar (7:00 p.m. – 8:30 p.m.)

Signed copy of "The Other Wes Moore"

Virtual attendees will have Zoom admission and a $25 Uber Eats gift card mailed to their home to enjoy a meal from their favorite local eatery while viewing a live feed of the VIP Gathering. Virtual participants may submit questions to Wes Moore from 7:00 p.m. – 8:00 p.m.
General Admission | $150/Ticket (In-Person)
Libations and Dinner (5:30 p.m. - 7:00 p.m.)

Wes Moore's Presentation and Conversation, Dessert and Coffee Bar (7:00 p.m. – 8:30 p.m.)
Virtual Admission | $100/Ticket
Zoom admission to Wes Moore's Presentation and Conversation (Virtual participants may submit questions to Wes Moore from 7:00 p.m. – 8:00 p.m.)
Students and Veterans
Please contact Jonathan Winkler at 412-203-0158 or jonathan.winkler@theneighborhoodacademy.org for discounted tickets.
Interested in taking a tour before the event?
This event raises invaluable scholarship dollars for students who would otherwise not receive the college-preparatory education we provide. Therefore, no refunds for ticket purchases for the 2021 Nancy & Paul O'Neill Speaker Series are permitted. Instead, your entry fee will be considered a donation benefiting student scholarships at The Neighborhood Academy.
---
EVENT MENU
- STARTER -

Four Hors d'oeuvres

Tomato mozzarella skewer with fresh pesto oil
Mushroom and goat cheese strudel
Curry chicken salad with cashews in a filo cup
Salmon cake with remoulade sauce
- ENTREES -

Cobb salad

Mixed greens with Avocado, tomato, grilled chicken or crispy tofu, Blue Cheese, cucumber finished with a white balsamic vinaigrette (on the side).
(option without protein available)
Chicken Caprese

Served on a bed of parmesan pasta with haricot vert brown butter and toasted almonds
- DESSERT -

Burnt almond cupcake
---
REGISTER HERE:
The Author | Wes Moore
Wes Moore is the Chief Executive Officer of Robin Hood, one of the largest anti-poverty forces in the nation. He is a bestselling author, a combat veteran, and a social entrepreneur.
Wes' first book, "The Other Wes Moore," a perennial New York Times bestseller, captured the nation's attention on the fine line between success and failure in our communities and in ourselves. That story has been optioned by executive producer Oprah Winfrey and HBO to be made into a movie. He is also the author of the bestselling books "The Work," "Discovering Wes Moore," and "This Way Home."
Wes' latest book, "Five Days," explores the uprisings in Baltimore in 2015 after the death of Freddie Gray in police custody through a kaleidoscope of perspectives and examines critical questions about the deeper causes of violence and poverty.
Wes grew up in Baltimore and the Bronx, where he was raised by a single mom. Despite childhood challenges, he graduated Phi Theta Kappa from Valley Forge Military College in 1998 and Phi Beta Kappa from Johns Hopkins University in 2001. He earned an MLitt in International Relations from Oxford University as a Rhodes Scholar in 2004. Wes then served as a captain and paratrooper with the U.S. Army's 82nd airborne, including a combat deployment to Afghanistan. He later served as a White House Fellow to Secretary of State Condoleezza Rice.
Before becoming CEO at Robin Hood, Wes was the founder and CEO at BridgeEdu, an innovative tech platform based in Baltimore addressing the college completion and job placement crisis by reinventing freshman year for underserved students. BridgeEdu was acquired by Edquity, a Brooklyn-based student financial success and emergency aid firm, in June 2019.
Wes has also worked in finance as an investment banker with Deutsche Bank in London and with Citigroup in New York.
Wes has served on numerous nonprofit and social-impact boards and is a lifetime member of the Council of Foreign Relations.
The joy of Wes' life are his two children and his wife Dawn.

The Book | "The Other Wes Moore: One Name, Two Fates"

Two kids named Wes Moore were born blocks apart within a year of each other. Both grew up fatherless in similar Baltimore neighborhoods and had difficult childhoods; both hung out on street corners with their crews; both ran into trouble with the police. How, then, did one grow up to be a Rhodes Scholar, decorated veteran, White House Fellow, and business leader, while the other ended up a convicted murderer serving a life sentence? Wes Moore, the author of this fascinating book, sets out to answer this profound question. In alternating narratives that take readers from heart-wrenching losses to moments of surprising redemption, The Other Wes Moore tells the story of a generation of boys trying to find their way in a hostile world.

The Book | "Five Days: The Fiery Reckoning of an American City"

When Freddie Gray was arrested for possessing an "illegal knife" in April 2015, he was, by eyewitness accounts that video evidence later confirmed, treated "roughly" as police loaded him into a vehicle. By the end of his trip in the police van, Gray was in a coma from which he would never recover.
In the wake of a long history of police abuse in Baltimore, this killing felt like the final straw—it led to a week of protests, then five days described alternately as a riot or an uprising that set the entire city on edge and caught the nation's attention

The Nancy & Paul O'Neill Speaker Series
For The Neighborhood Academy, a college preparatory high school whose mission is to break the cycle of generational poverty through education, The Nancy & Paul O'Neill Speaker Series gives a platform for a renowned author to share and discuss an impactful publication that the students and audience may relate to. Wes Moore's book "The Other Wes Moore: One Name, Two Fates" explores the lives of two Wes Moores and the factors and choices that led one to a Rhodes scholarship, military service, and a White House fellowship, and the other to drug dealing, prison, and eventual conversion to the Muslim faith. Both sharing a gritty sense of realism about their pasts.
Any questions about the event can be directed to Jonathan Winkler, Events, Marketing, and Development Associate, at 412-203-0158 or jonathan.winkler@theneighborhoodacademy.org.
COVID-19 Safety
This event follows area mandates and meets or exceeds CDC guidelines.
Masks will be provided (thanks to UPMC Health Plan) and required regardless of vaccination status. Masks may be removed while actively enjoying food and drinks.
The venue is 40 yards x 65 yards (with a 50 foot ceiling) indoor soccer field with artificial turf allowing attendees to maintain appropriate social distancing throughout the event.
Air will be circulated throughout the venue by industrial-sized ceiling fans and garage doors will be open emulating an outdoor experience.
Dinner seating will be available for groups of 6 individuals at 72" rounds allowing adequate social distancing. Additionally, limited high-top tables and outdoor tables will be available for individuals or couples requesting additional distance during mealtime.
Thanks to our 2021 Sponsors:
-PRESENTING SPONSOR-
The Nancy and Paul O'Neill Family
-GOLD SPONSOR-
The Gockley Family
-SILVER SPONSORS-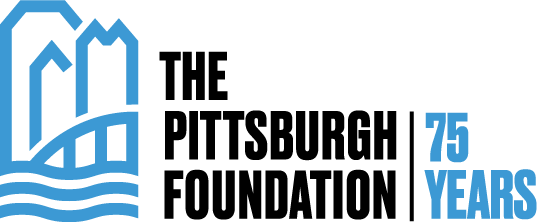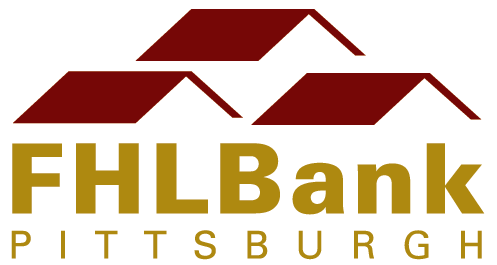 -STEEL SPONSORS-

-BRONZE SPONSORS-
Burns White, LLC
PNC Financial Services Group
Dick Building Company, LLC
Cline Financial Services Group
-BULLDOG SPONSORS-
SMI Aware
CIBC
Joe Wilson & Sarah Williams Wilson
Federated Hermes
BD&E
MediaQuest
KPMG
Gayle and Bill Simpson
Dentons Cohen & Grigsby
First National Bank
Peter & Alice Leone
Smithfield Trust Company
Clark Hill PLC
TriState Capital
PwC
Comcast
-SUPPORTING SPONSORS-
Pittsburgh Theological Seminary

Robert Morris University
AHRCO
Duolingo
Tucker Arensberg, P.C.
Pittsburgh Steelers