Giving TNA Students a Boost!
April 30, 2021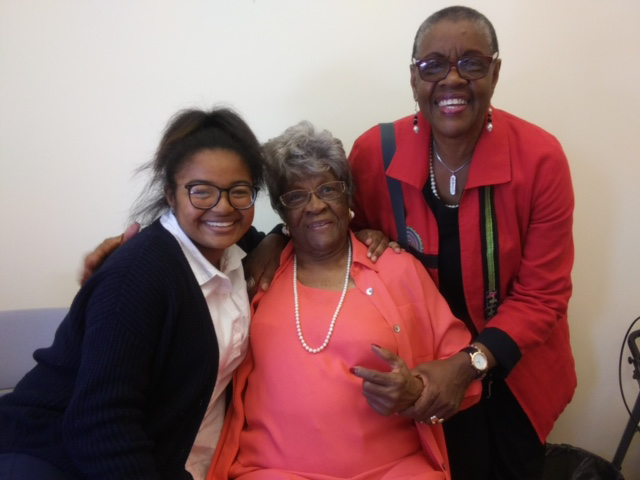 In 2018, as part of a two-tiered scholarship, Mr. Michael Schenz and Dr. Beverly Harris-Schenz endowed the Mary Martin Tinsley (MMT) Scholarship Fund to honor Beverly's mother, Mrs. Tinsley, and joined the Over The Bridge Society by supporting the cost of educating a student for three years. Their student is Quentaja, class of 2021.

"Quentaja is a very focused young woman who is committed to her education and the goals she has set for herself. She is quite independent and wants to be a role model for her siblings… she takes that role very seriously," said Dr. Harris-Schenz. "We communicate regularly and I'm pleased with the relationship we've developed! Quentaja just got her first college admission letter, which is very exciting, and she has plans for a career in the medical field."

Created by Dr. Beverly Harris-Schenz, Ph.D., the MMT endowed scholarship helps outstanding students in their pursuit of higher education. "This was a first for me to set up an endowed scholarship alongside an Over the Bridge pledge. I was moved by Dr. Schenz's desire to extend her support into perpetuity, while helping a student in real time", said Sheila Rawlings, Director of Development.

Dr. Harris-Schenz, Associate Professor Emerita at the University of Pittsburgh, had a successful academic career as professor of German and director of undergraduate studies in the University of Pittsburgh's Department of Germanic Languages and Literatures. Her specialty was language with a focus on German children's literature, foreign language pedagogy, and teacher training. In 1988, she received the Chancellor's Distinguished Teaching Award. At Pitt, she also served as Vice Provost for Faculty Affairs and Associate Dean for Undergraduate Studies.

She received her doctoral degree in German studies from Stanford University in 1977. At that time, there were no African Americans in the German department. In fact, she was only the second African American to earn a PhD in German at Stanford.

Dr. Harris-Schenz and her husband, Michael, became involved with TNA through their church over 15 years ago and have been supporters ever since. "Many children need to have more than a school environment that just focuses on academics. They need to have an opportunity that helps them realize who they are and how they can contribute and be a part of something bigger than themselves and TNA does that... TNA is much more than a normal 'nine-to-five' school," said Dr. Harris-Schenz.

Beverly and Michael believe that education is the key to opening doors to opportunities. In addition to their scholarship at TNA, they set up The Samuel Vanworth Harris Memorial Scholarship at the University of Pittsburgh more than 20 years ago. Both scholarships were named by Dr. Harris-Schenz in honor of her parents.

Giving students a boost is Dr. Harris-Schenz's way of giving back and following the example of those who have helped her. She believes that no one achieves success on their own, and that it is important to 'pay it forward.'

"In my life, many people were instrumental in helping me obtain the goals I set for myself, and those people were generous and kind. They didn't need me… I needed them," Dr. Harris-Schenz said. "My obligation was that once I was in the position to give back, I wanted to demonstrate that gratitude by assisting others to realize their educational goals."
For more information on how you can become a member of the Over The Bridge Society contact Sheila L. Rawlings, Director of Development at The Neighborhood Academy at 412.626.6851 or sheila.rawlings@theneighborhoodacademy.org.