Graduate | Amari Spivey
June 13, 2022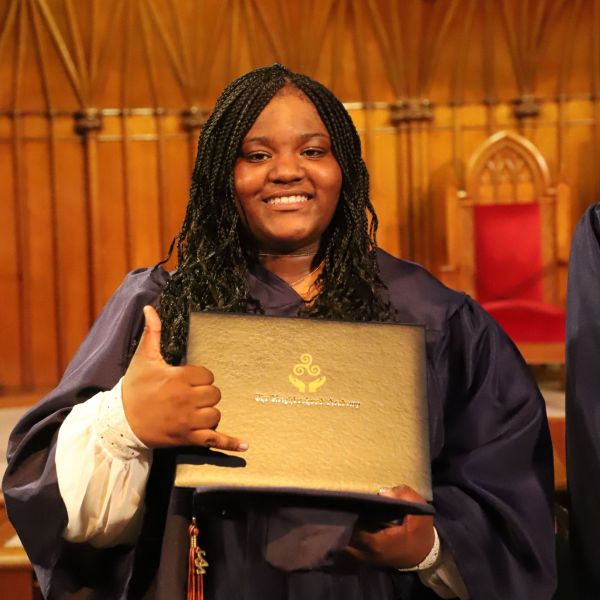 TNA Class of 2022
Amari Spivey
Having graduated in May with the Neighborhood Academy class of 2022, Amari Spivey is eager to plant her roots at Chatham University in the fall. Gardening is Amari's passion, and after participating in a summer agriculture program at the university in 2021, she knew that Chatham was where she wanted to be for her undergraduate studies.

"My love of gardening was nurtured by my grandmother. We grew a lot of different things together, and I've always found growing food and living off the land so interesting," said Amari. "At Chatham, I explored their greenhouse and even had the unique opportunity to do some beekeeping. My goal is to get my degree in agriculture."
After she completes her undergraduate studies, Amari has entrepreneurial dreams to use her farming expertise to feed people.
"The program at Chatham really solidified my plans and career path. I want to be able to grow my own crops and possibly open a co-op or farmer's market one day," she said.

Fruits and vegetables are not the only things Amari wants to grow in her life. She has plans to grow strong within her community and give back wherever she is able.
"I also have a passion for giving back – whether it's to a nonprofit, or getting involved in the community, or being in touch with people in some way, shape, or form," Amari said. "This inspiration comes from my mother – through her perseverance and resourcefulness as a single mother raising my siblings and me. I used to watch her work so hard and always put her family first. I never want to forget where I came from."

Amari was recently awarded the Baskin Charitable Trust Scholarship as well as the Kurtzrock-Fogleman Scholarship for her academic achievements. She credits The Neighborhood Academy for her discipline and motivation to reach her highest potential.

"Receiving these scholarships is allowing me to further my education, and for that, I am so thankful and honored," said Amari. "TNA has helped me grow. I learned that there are no shortcuts if you want to achieve certain things in your life. I learned about hard work and the value of it, and I'm grateful to the school for showing that to me."