Supporters Corner | Jim and Gretchen Gockley
June 13, 2022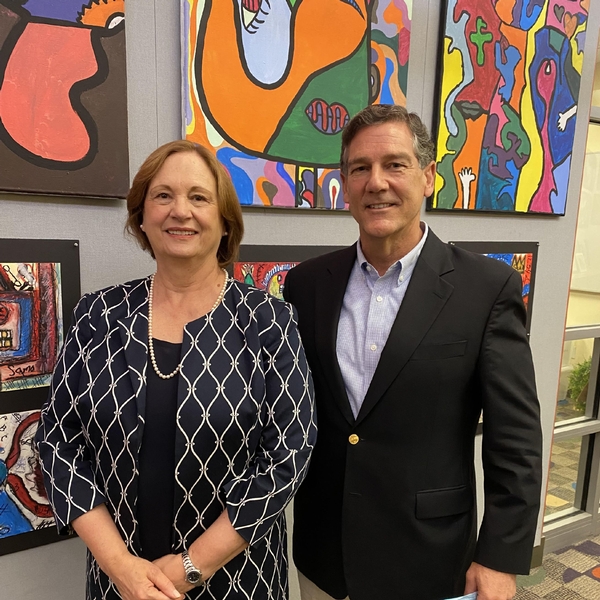 Jim and Gretchen Gockley
Jim and Gretchen Gockley, loyal supporters of The Neighborhood Academy since the mid-2000s, are true believers that obtaining a high-quality education is what opens doors to opportunities.
Jim and Gretchen met at Washington and Jefferson College in the mid-1970s. Gretchen went on to Carnegie Mellon University to earn her Master's in chemical engineering, while Jim pursued a law degree at the University of Pittsburgh. Gretchen worked as an engineer at Westinghouse for 16 years, retiring as a Senior Engineer. For 33 years, Jim had various legal and executive positions at BNY Mellon Bank, retiring as an Executive Vice President for the holding company and as General Counsel for the Asset Management line of business.
Jim and Gretchen were introduced to TNA through Shadyside Presbyterian Church while the school was still planting its roots in Garfield.
"I received word that TNA was looking for tutors in math, so I volunteered for two years helping the older students. I discovered no matter how much you love something it doesn't make you a good teacher!" laughed Gretchen. "I hope I helped a few of them along the way."
Jim and Gretchen have always held the mission of TNA in their hearts, and believe that education is the change-maker for our students.
"We've been blessed with two amazing children, and we saw first-hand what a difference educational opportunities can make – not only in development, but in life trajectory," said Jim. "Education is the key to so many things; it is a force multiplier of what happens later in one's life. TNA absolutely changes the lives of its students and their futures."
"Education is a part of who we are… it's done so much for us and our kids. To us, it can be a key determinant in shaping people's lives," said Gretchen.
Jim and Gretchen have been three-time sponsors of TNA's bi-annual Nancy and Paul O'Neill Speaker Series, and they especially find it beneficial that the students meet and speak with the author/speaker prior to the evening event.
"We love the fact that the students read the author's book and discuss it with the author face-to-face. That's the tangible activity that makes this all the more real for the students who are being molded and influenced by their time at this school. These speakers are real influencers – not the TikTok folk," laughed Jim.
"Bringing a speaker in who has no idea about TNA and to having them see and understand the mission and the quality work that's done here is special," said Gretchen.
With TNA celebrating its 21st anniversary, Jim and Gretchen believe that the school, like its students, has a bright future ahead.
"Innovative and forward-thinking people at the school are what will guide the Academy to more success. Building more partnerships to increase its overall reach and effectiveness is important. It's both a quantity and quality thing," said Jim.